Brian Richter, President of Sustainable Waters and Greenleaf Board Member, writes on his blog on the City of Austin's 100-year water plan. The Water Forward plan looks to provide clean, safe, reliable, high quality, sustainable, and affordable water services to Austin for the next 100+ years. The objectives in developing this plan were water reliability, social, environmental, and economic benefits, and ease of implementation. As Brian says, "The result is an ambitious blending of  hyper-aggressive water conservation and innovative development of "alternative" water supplies such as water reuse and stormwater capture." Austin has made progress on water conservation; they have reduced per-capita daily water use significantly and the plan strives to continue reducing this (see chart below). The plan also includes use of "alternative" water supplies that can be treated and reused and suggests that new ordinances and incentives be put in place for these alternative sources.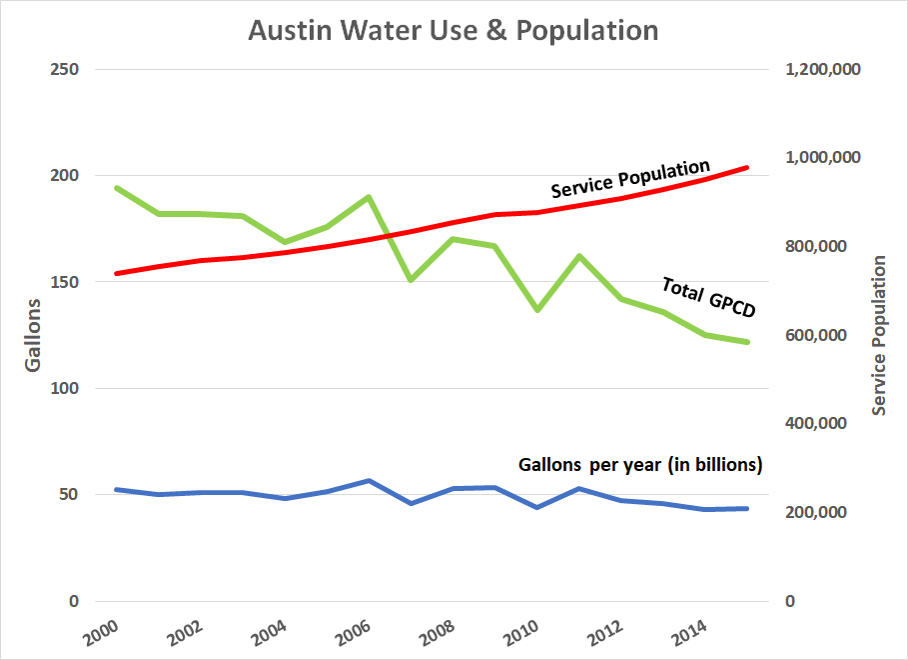 Image: Austin's aggressive water conservation programs have enabled the city's residents to cut their daily water use by 37% and the city's total water use by 17% even while its population grew by one-third during 2000-2015.  Data source: Austin Water
Please visit Brian's Sustainable Waters blog to read more about Austin's Water Plan.